HEHUI GLASS NEW DESIGN COLOR GLASS MOUTHPIECE HOOKAH SHISHA ACCESSORY
Product Detail
Product Tags
Introducing our new and improved Hookah Shisha Mixed Glass Mouthpiece!
This accessory is a game changer for hookah lovers looking to elevate their smoking experience. The mouthpiece is 350mm long and 20mm in diameter, and the hose connection is 13mm in diameter. This high-quality hookah accessory is available in a variety of colors to customize it to your liking. Our handcrafted glass mouthpieces are designed to provide a more hygienic and cleaner smoking experience. It connects with a universal size silicone tube ensuring compatibility with most hookahs.
In addition, the grip portion of our non-slip design glass mouthpiece provides extra safety when handling the hookah. Another great feature of our Mix Colors Glass Mouthpiece is that it is attached with a plastic tip, making it cleaner and more hygienic. The combination of glass and plastic also enhances the aesthetic value of the mouthpiece, giving it a unique and sophisticated look. In our company, we take pride in providing high quality hookah accessories that exceed our customers' expectations. That's why we offer glass blowing nozzles in custom sizes and packaging, so you can be sure it meets all your specific requirements. Ideal for personal and professional use, this product guarantees you an exceptional smoking experience every time.
Take your smoking experience to the next level by purchasing our brand new hookah shisha melange glass mouthpiece today. With its great features, unique design and customizable options, it is the perfect accessory for hookah lovers who want to step up their smoking game.
| | |
| --- | --- |
| Item Name | COLOR GLASS MOUTHPIECE |
| Model No. | HY-MP03 |
| Material | High borosilicate glass |
| Item Size | Hose Joint size Dia 13mm(0.51inch) |
| Color | Colors are available |
| Package | Inner box and carton |
| Customized | Available |
| Sample Time | 1 to 3 days |
| MOQ | 100 PCS |
| Lead Time for MOQ | 10 to 30 days |
| Payment Term | Credit Card, Bank Wire, Paypal, Western Union, L/C |
● Length:350mm(13.78inches); Diameter:20mm(0.79inch). Made of transparent crystal glass, it is a real optical highlight. Compared to conventional glass mouthpieces, we use high-quality glass stronger.
●  High borosilicate glass material, heat resisting and clear.
●  Use as mouth piece for AMY, LAVOO and all the hookahs in the market.
●  Easy to use: you can use the glass mouthpiece in all standard silicone hoses. The quality glass is odourless, easy to clean and lightweight.
●  Strong draught: the wide diameter of 20mm(0.79inch), a superior draught is guaranteed without much effort when inhaling.
●  Comfortable It's incredibly comfortably in your hand. Its spiral design is not only beautiful, but also provides grip, does not slip or fall.
●  Gift box package customization is available.
The glass mouthpiece design with colors meet male and female users or different ages users requirement.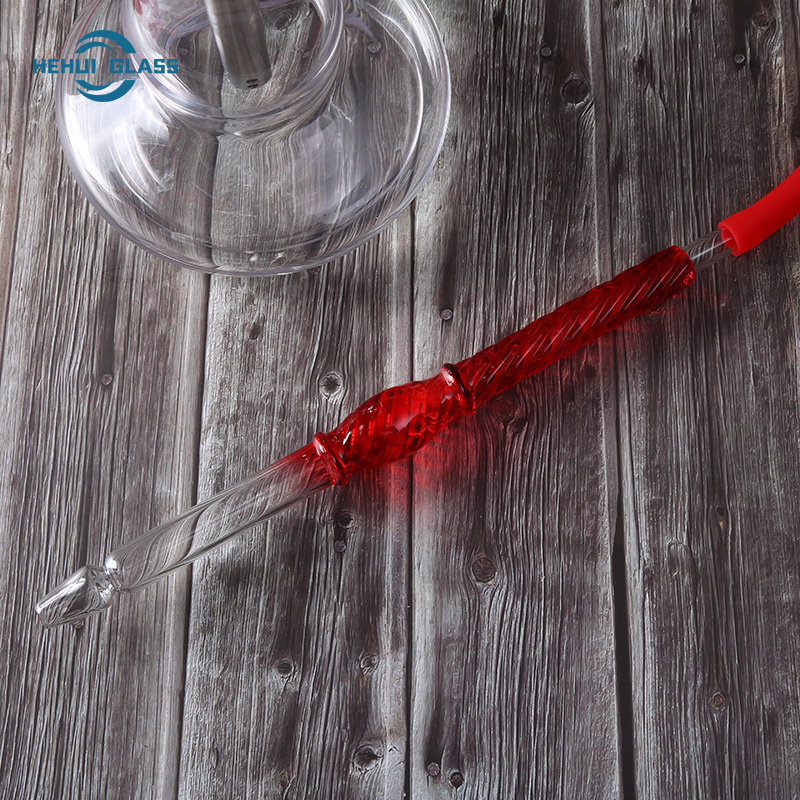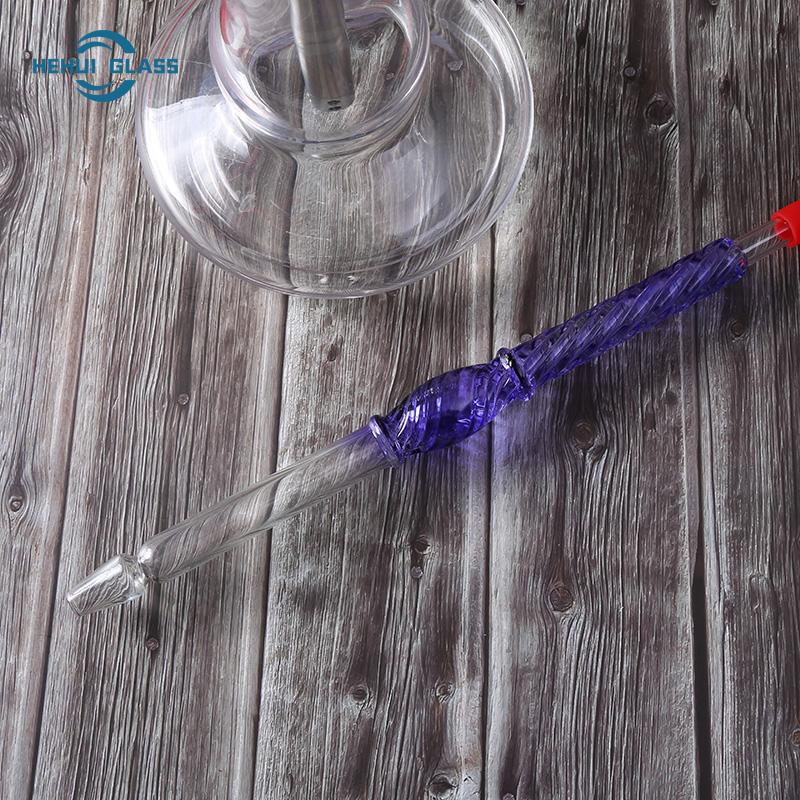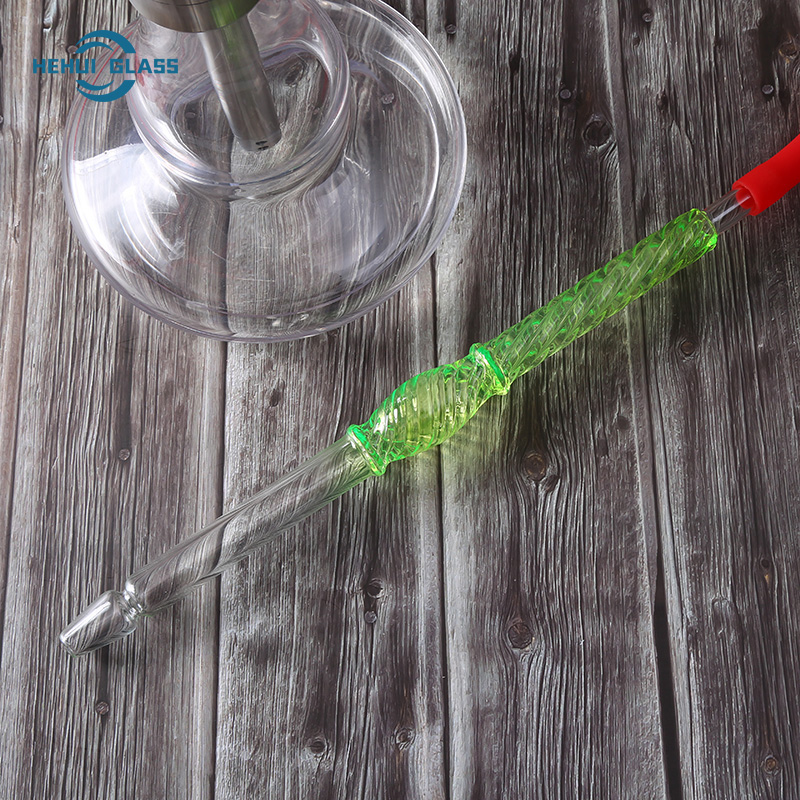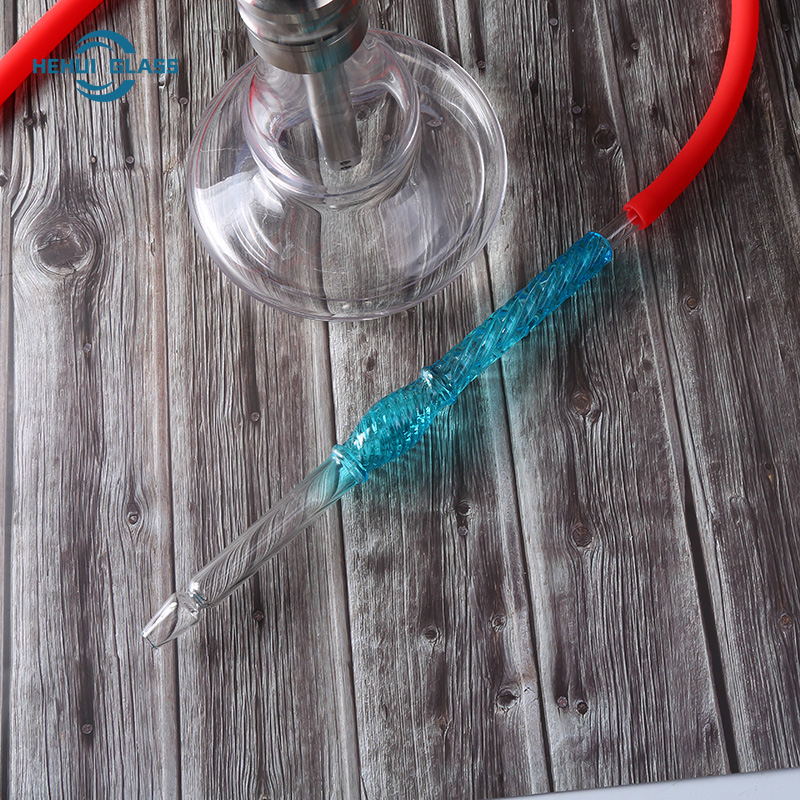 ---
---