Product Detail
Product Tags
Introducing the SINGLE PERC RECYCLER GLASS BONG, the ultimate combination of quality, durability and reliability. Crafted from high-quality flame-polished glass, this solid bong features an incredibly stable design. Whether you're an experienced smoker or just starting out, this everyday must-have bong has all the essential features you need. What sets this bong apart is its amazing ability to recycle smoke and return it to the water for a smooth and delicious hit every time.
At Hehui Glass Company, we are proud to provide our customers with the highest quality glass water pipes. This small glass water pipe is a perfect example of our pursuit of excellence. The glass water pipe is simple and elegant in design, providing a comfortable smoking experience every time. The glass bubbler water pipe feature is perfect for those who prefer a smoother strike without the harshness of dry smoking. Glass reclaimed water pipes are designed for easy cleaning and maintenance, ensuring you can enjoy the benefits of smoking for years to come.
When you choose SINGLE PERC RECYCLER GLASS BONG, you are not only getting a quality product, but also a customized service from our experienced and professional team. We pride ourselves on offering handcrafted glass water pipes using intricate craftsmanship. We use only the highest quality materials and cutting edge technology to create a product that with proper care and maintenance will last for years. Whether you're a seasoned smoker or just starting out, there's something for you in our Amazon selection of glass water pipes. So why wait? Order your SINGLE PERC RECYCLER GLASS BONG today and start enjoying the ultimate smoking experience!
| | |
| --- | --- |
| Item Name | SINGLE PERC RECYCLER GLASS BONG |
| Model No. | HG2301013 |
| Material | High borosilicate glass |
| Item Size | Height:210mm(8.27inches),Base Dia:100mm(3.94inches),14mm(0.55inch) Joint |
| Color | Blue Or as customize |
| Package | Inner box and carton |
| Customized | Available |
| Sample Time | 1 to 3 days |
| MOQ | 100 PCS |
| Lead Time for MOQ | 10 to 30 days |
| Payment Term | Credit Card, Bank Wire, Paypal, Western Union, L/C |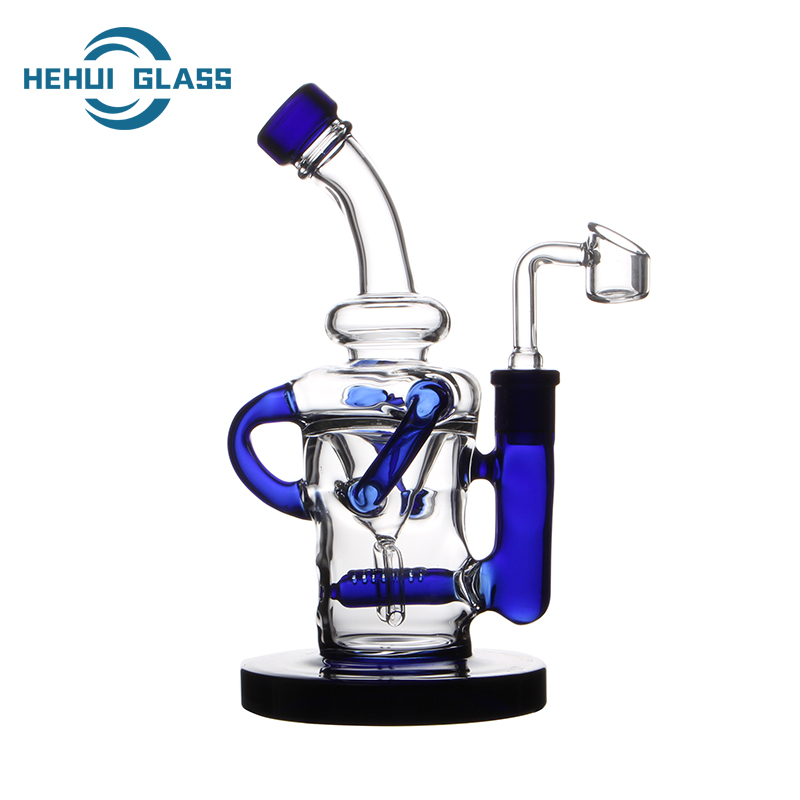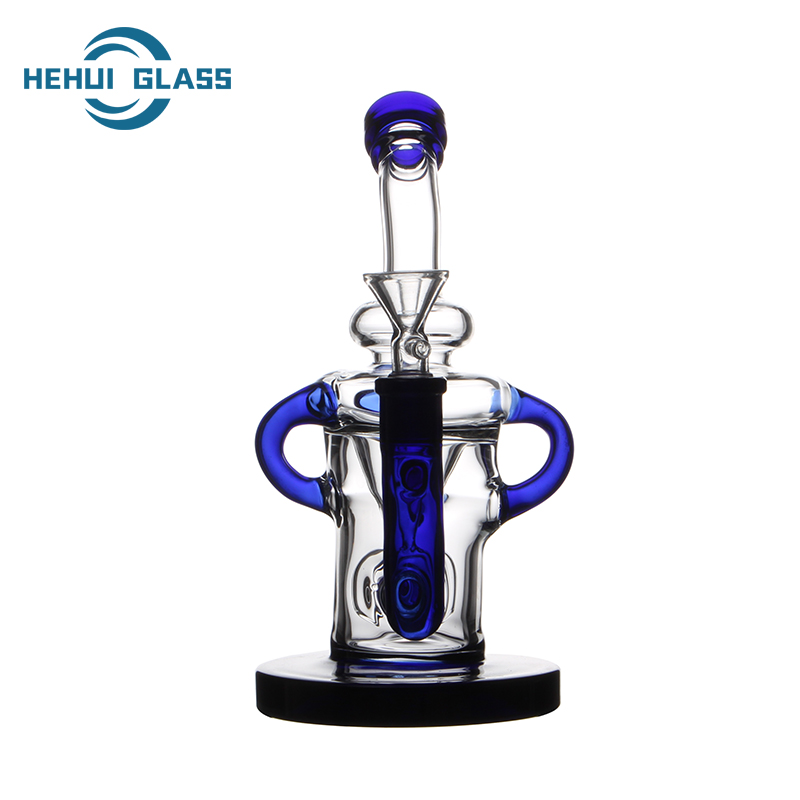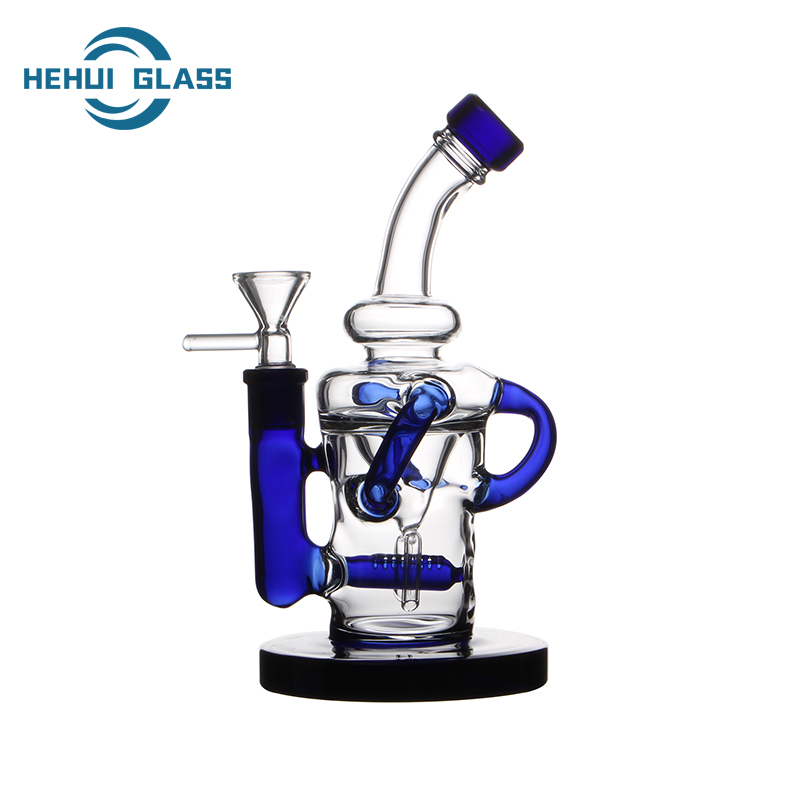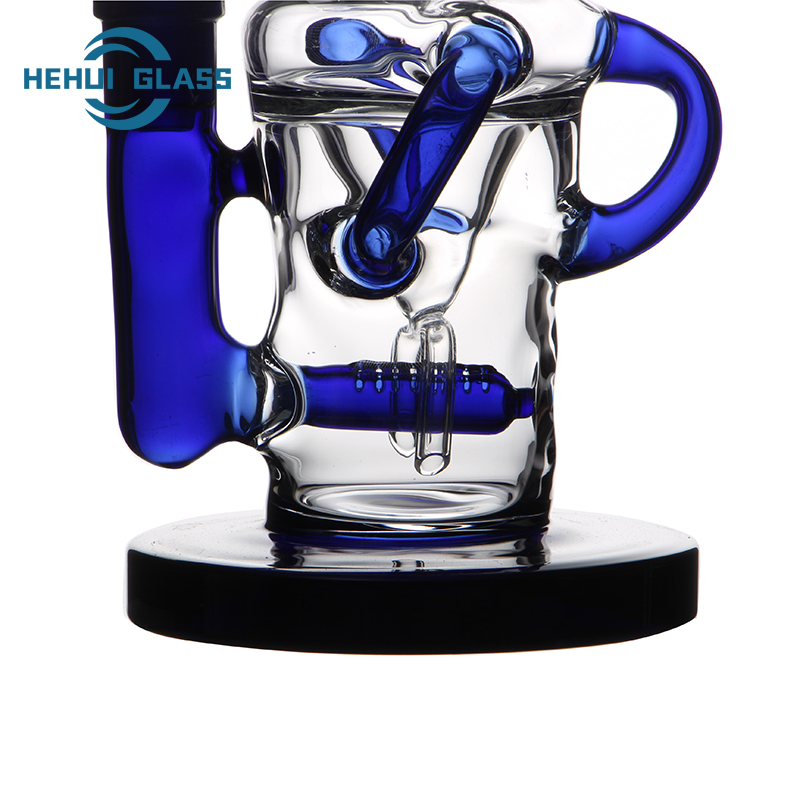 Q: How do I use my bong for dabbing?
A: Using a bong for dabbing is a simple process that requires just a few small attachments to your existing bong. Since concentrates require a hot surface to vaporize, you'll need to attach a Dab Nail (such as a Quartz Banger) to your bong. If you plan on dabbing a lot, we recommend getting a dedicated dab rig as it'll taste better, retain more flavor, and use your wax more efficiently.
Q: How do I clean my bong? 
A: Keeping your bong clean is vital to its regular maintenance. Smoking out of a dirty bong is unsanitary and is akin to eating from a dirty, crusty plate. Just don't do it. While it may seem intimidating, cleaning your bong is easy. Popular options range from 99% Isopropyl Alcohol and Medium Granule Salt Rocks to dedicated, non-toxic, custom-formulated glass cleaners such as Resolution and Kryptonite Cleaner. DankStops offers dozens of options, including cleaning caps and plugs.
Q: How do I hit a bong?
A:Fill up the bong with enough water so a decent amount of the downstem is submerged; too much water and you'll get splashed while smoking, while not enough water leads to a harsher hit. Then, fill the bowl with the desired amount of marijuana. Put the bowl into the downstem, grab a lighter and find a comfy seat on the couch. Grab the bong with your non-dominant hand and hold the lighter with your dominant hand. Light the bowl and put your lips inside of the mouthpiece — you're not taking a sip of water and you're not trying to eat the bong. Suck (don't inhale) so the water bubbles and fills the chamber. When you have the desired amount of smoke, lift the bowl and inhale. Repeat as necessary.
---
---