Small DIY Fruit Led Glass Hookah For Shisha Smoking Lovers
Product Detail
Product Tags
| | |
| --- | --- |
| Item Name | Small Russia Led Art Fruit Glass Hookah For Shisha Smoking Lover |
| Model No. | HY-HSH013 |
| Material | High Borosilicate Glass |
| Item Size | Height 360mm(14.17inches), Base Dia 135mm(5.31inches) |
| Package | Leather Bag/Foam Package/Color Box/Common Safe Carton |
| Customized | Available |
| Sample Time | 1 to 3 days |
| MOQ | 100 PCS |
| Lead Time for MOQ | 10 to 30 days |
| Payment Term | Credit Card, Bank Wire, Paypal, Western Union, L/C |
Introducing the Russian Fruit Glass Hookah Shisha! This beautiful and classic hookah shisha design is sure to impress hookah lovers and novices alike. The sturdy glass body vase ensures durability, while the 360mm (14.17in) height and 5mm (0.2inch) glass thickness provide an elegant look and feel.
But what sets the Russian Fruit Glass Shisha Shisha apart is the vase opening with an inner diameter of 28 mm (1.1 inches). This offers a unique DIY experience where you can add your own fruit and ice to create your favorite flavor. Also, hookahs and travel leather hookahs are available, which can be easily brought home or to a party.
In our smoking shop we are proud to offer Russian Fruit Glass Shisha Shisha to our B2B wholesale customers. We understand the importance of a hookah not only to look good but also to provide an unforgettable smoking experience. That's why we focus on key SEO terms such as shisha, fruit shisha, DIY shisha and travel shisha to ensure our products are easily found. So, whether you're looking for something new to stock or a shisha party must-have, the Russian Fruit Glass Hookah Shisha is the perfect choice for you!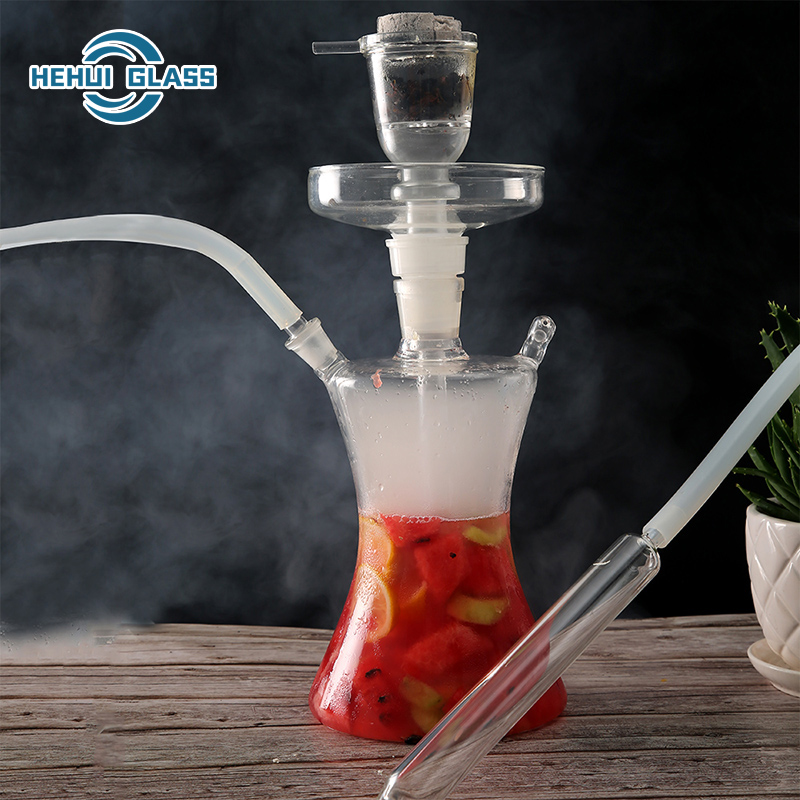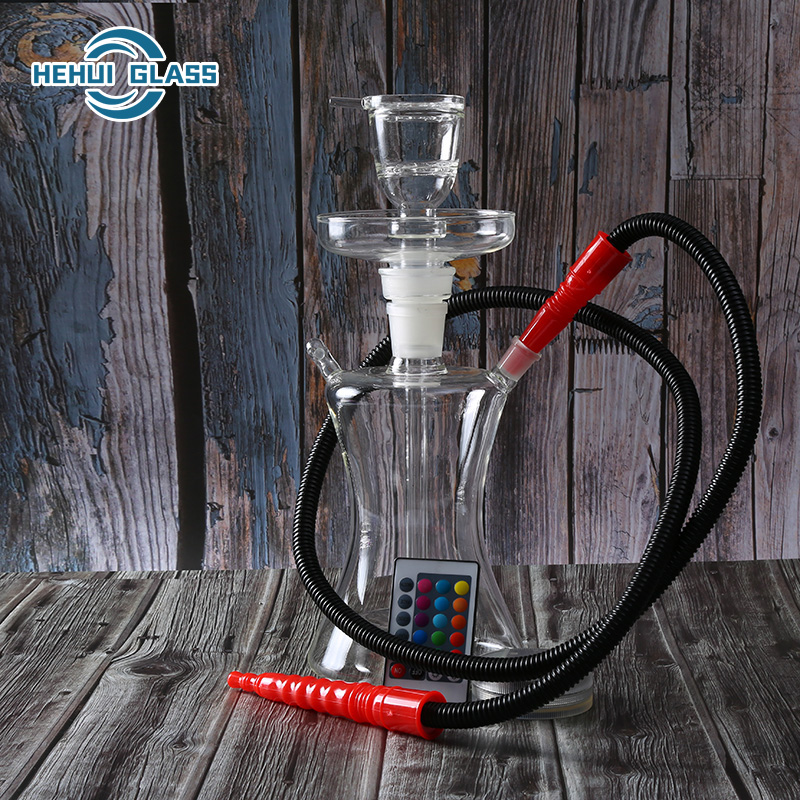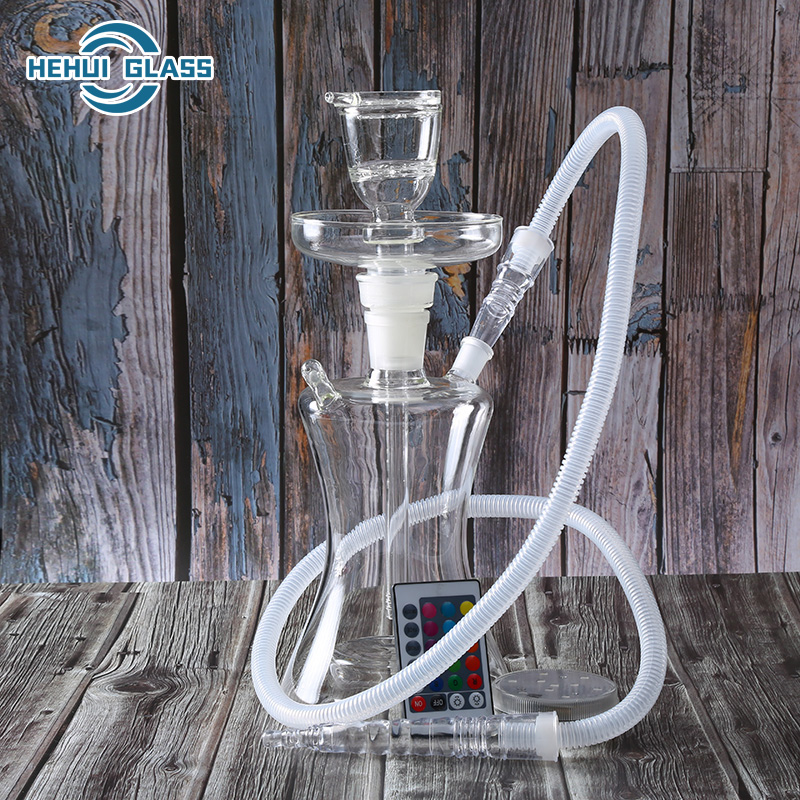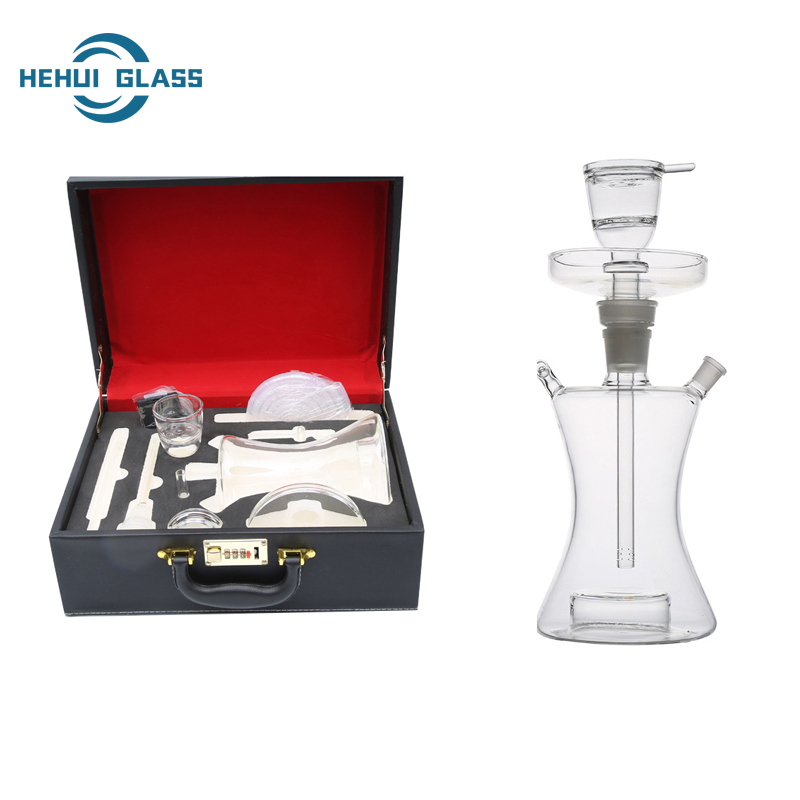 ● 1pc Hookah bottle base.
● 1pc Glass down stem.
● 1pc Glass ash tray. 
● 1pc Glass tobacco bowl. 
● 1pc Glass lid for charcoal. 
● 1pc Plastic hose set.
● 1pc 16 colors changing led light and remote control.
Install steps of led art fruit glass hookah
1. Pour the water inside the hookah bottle, make the water height level 2 to 3cm(1 inch) above the down stem tail end. Hookah bottle with big open, easy to get creation with different fruits and ices.
2. Install the down stem on the hookah bottle.
3. Put the ash tray on the down stem.
4. Put tobacco/flavor(we recommend 20g capacity) inside tobacco bowl.Put the glass lid on the bowl.
5. Heat the charcoal(recommend 2 pcs square ones) and put the charcoal on the glass lid.
6. Connect to the hookah bottle with plastic hose set.
7. Prepare 3*AAA, 1*CR2025 batteries for LED light and remote control, put it under the hookah bottle.
1. What is hookah?
A hookah, also known as a shisha, is a device commonly used for smoking flavored tobacco. It consists of several parts including bowl, hose, down stem,bottle and mouthpiece.
2. How does hookah work?
Hookah works by heating tobacco with charcoal, then passing the smoke through a bottle and inhaling through a mouthpiece.
3. How to clean the hookah?
To clean the hookah, disassemble all parts and rinse them thoroughly with warm water. Use a brush or sponge to clean the bowl and hose, and dry all parts before reassembling.
4. What are the maintenance precautions for hookah?
Maintaining your hookah is essential by regularly cleaning and replacing damaged parts, keeping the hookah dry and replacing the charcoal when necessary to ensure a smooth smoking experience.
5. How to choose the right hookah?
When choosing a hookah, consider factors such as size, material, design, number of hoses, and price. Choose one that suits your preferences and smoking habits.
6. Is it more harmful to health than traditional cigarettes?
Smoking hookah is as harmful to health as traditional cigarettes. It can cause lung and heart disease, cancer, and addiction, depending on the frequency and duration of use.
7.How Does Smoking Shisha Feel Like?
Smoking shisha is delightfully flavorful. The clouds of smoke are fuller and richer with a distinct texture, especially compared to cigarettes and cigars. Also, there's much less nicotine. But all shisha flavors containing nicotine provide a subtle high or kick, albeit not anything harsh.
8. Can smokers quit hookah?
While it can be difficult, smokers can quit hookah by seeking professional help, finding support groups, and adopting healthy habits, such as exercise and a nutritious diet.
9. Can hookah be shared with others?
Sharing a hookah with others increases the risk of spreading diseases such as herpes, tuberculosis and hepatitis.
10. What are the legal requirements for smoking shisha?
Hookah smoking is regulated in different countries, with some countries banning it entirely or restricting it to designated areas. Be sure to know the laws in your area before smoking.
---
---