Large Transparent LED Fruit Glass Hookah For Party Smoking Lounge
Product Detail
Product Tags
| | |
| --- | --- |
| Item Name | Big Size Led Art Glass Hookah Shisha For Smoking Lounge |
| Model No. | HY-HSH024 |
| Material | High Borosilicate Glass |
| Item Size | Height 540mm(21.26inches), Base Dia 190mm(7.4inches) |
| Package | Leather Bag/Foam Package/Color Box/Common Safe Carton |
| Customized | Available |
| Sample Time | 1 to 3 days |
| MOQ | 100 PCS |
| Lead Time for MOQ | 10 to 30 days |
| Payment Term | Credit Card, Bank Wire, Paypal, Western Union, L/C |
Introducing the LED FRUIT ART Glass Hookah, the perfect addition to your hookah collection! The classic design of this hookah hookah is sure to impress, with its sturdy glass body vase and stylish LED lights to brighten up your smoking experience. You can't go wrong with using this hookah for a party or lounge, it's sure to steal the show.
The thickness of the glass vase itself is more than 5mm, which ensures the firmness during use. Its opening diameter has also reached 45 mm, allowing you to easily add your favorite fruits and ice cubes to DIY and create your favorite flavor. The LED lights inside the vase exude an elegant and futuristic glow, perfect for any party or lounge setting.
Height 540mm (21.26") LED FRUIT ART Glass Hookah is sure to make a statement and be the perfect centerpiece for your home or venue. Bring home one or several of these beautiful hookahs and dazzle all your friends with its beauty.
This LED glass hookah was designed with one mission in mind - to bring beauty and elegance to the art of hookah smoking. Now you can relax and enjoy smoking in style and sophistication. Whether you are an experienced smoker or a beginner, the LED Fruit Art Glass Hookah has something for everyone.
Incorporating this hookah into your next party, gathering, or hookah lounge will definitely enhance the ambience and create an unforgettable experience. It is truly the epitome of elegance and will amaze everyone.
In conclusion, the LED FRUIT ART Glass Hookah was chosen for its classic design, solid construction and innovative LED light. Experience the true meaning of smoking in style and make your next puff an unforgettable experience.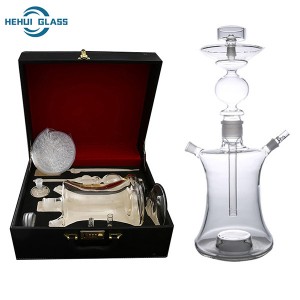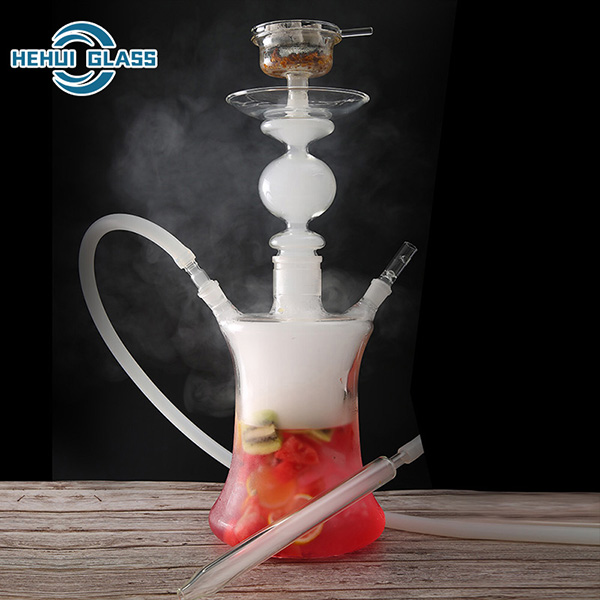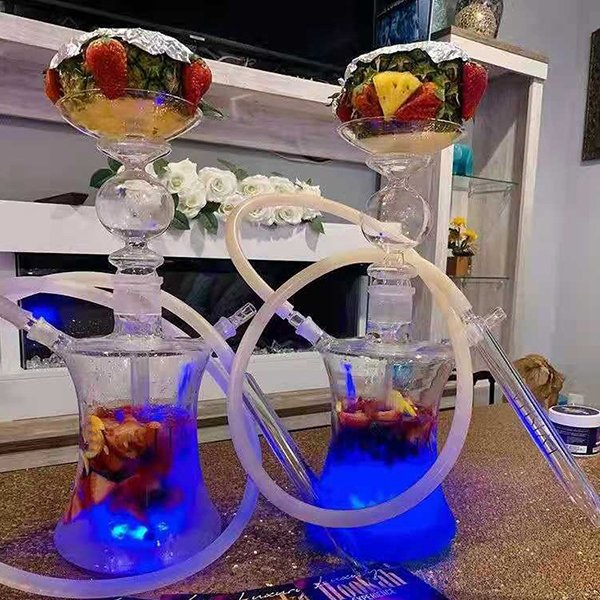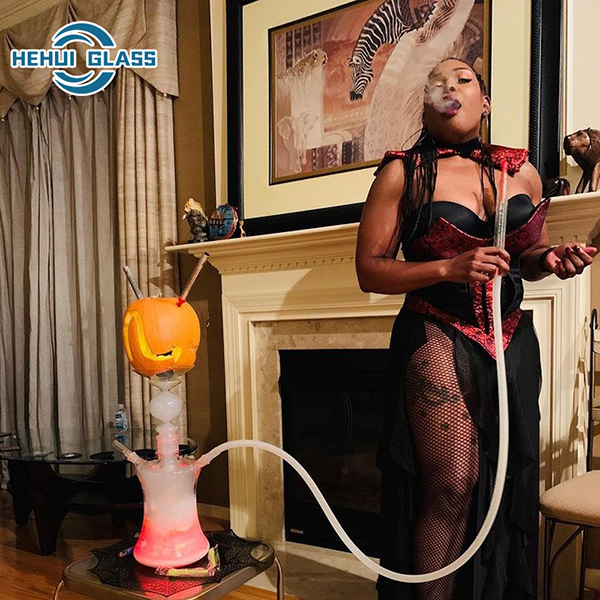 ● 1pc Hookah bottle base.
● 1pc Glass down stem.
● 1pc Glass ash tray. 
● 1pc Glass tobacco bowl. 
● 1pc Hose adpater 18.8mm dia joint size.
● 1pc Air valve 18.8mm dia joint size. 
● 1pc Food grade silicone hose 1500mm length. 
● 1pc Glass mouth Piece.
● 1pc 16 colors changing led light and remote control(if take express or air shipping, without any battery as air shipping safety).
Install steps of led art fruit glass hookah
1. Pour the water inside the hookah bottle, make the water height level 2 to 3cm(1 inch) above the down stem tail end. Hookah bottle with big open, easy to get creation with different fruits and ices.
2. Install the down stem on the hookah bottle.
3. Put the ash tray on the down stem.
4. Put tobacco/flavor(we recommend 20g capacity) inside tobacco bowl. Tight the bowl with sliver paper and install the bowl on the down stem top end.
5. Heat the charcoal(recommend 2 pcs square ones) and put the charcoal on the sliver paper.
6. Joint the silicone hose with adapter and glass mouth piece. Connect to the hookah bottle.
7. Insert the air valve to the hookah bottle.
8. Prepare 3*AAA, 1*CR2025 batteries for LED light and remote control, put it under the hookah bottle.
1. What is hookah?
A hookah, also known as a shisha, is a device commonly used for smoking flavored tobacco. It consists of several parts including bowl, hose, down stem,bottle and mouthpiece.
2. How does hookah work?
Hookah works by heating tobacco with charcoal, then passing the smoke through a bottle and inhaling through a mouthpiece.
3. How to clean the hookah?
To clean the hookah, disassemble all parts and rinse them thoroughly with warm water. Use a brush or sponge to clean the bowl and hose, and dry all parts before reassembling.
4. What are the maintenance precautions for hookah?
Maintaining your hookah is essential by regularly cleaning and replacing damaged parts, keeping the hookah dry and replacing the charcoal when necessary to ensure a smooth smoking experience.
5. How to choose the right hookah?
When choosing a hookah, consider factors such as size, material, design, number of hoses, and price. Choose one that suits your preferences and smoking habits.
6. Is it more harmful to health than traditional cigarettes?
Smoking hookah is as harmful to health as traditional cigarettes. It can cause lung and heart disease, cancer, and addiction, depending on the frequency and duration of use.
7.How Does Smoking Shisha Feel Like?
Smokingshisha is delightfully flavorful. The clouds of smoke are fuller and richer with a distinct texture, especially compared to cigarettes and cigars. Also, there's much less nicotine. But all shisha flavors containing nicotine provide a subtle high or kick, albeit not anything harsh.
8. Can smokers quit hookah?
While it can be difficult, smokers can quit hookah by seeking professional help, finding support groups, and adopting healthy habits, such as exercise and a nutritious diet.
9. Can hookah be shared with others?
Sharing a hookah with others increases the risk of spreading diseases such as herpes, tuberculosis and hepatitis.
10. What are the legal requirements for smoking shisha?
Hookah smoking is regulated in different countries, with some countries banning it entirely or restricting it to designated areas. Be sure to know the laws in your area before smoking.
---
Previous:
OEM/ODM Manufacturer Lamp Glass - HEHUI BIG PEBBLE DESIGN GLASS LAMPSHADE G9/HOLE OPEN – HEHUI GLASS
---