Product Detail
Product Tags
| | |
| --- | --- |
| Item Name | Stable High Quality Chicha Sheesha Big Smoke Custom logo Thick Glass Bottle Hookah Set Wholesale Custom Package With Glass Plate |
| Model No. | HY-HSH017B |
| Material | High Borosilicate Glass 3.3 |
| Item Size | Bottle Height 220mm(8.66inches),Dia 100mm(3.94inches) |
| Package | Color Box |
| Customized | Available |
| Sample Time | 1 to 3 days |
| MOQ | 200 PCS |
| Lead Time for MOQ | In 20 days |
| Payment Term | Credit Card, Bank Wire, Paypal, Western Union, L/C |
Introducing to you our newest product in the shisha world - Stable High Quality Chicha Sheesha Big Smoke Custom Logo Thick Glass Bottle Shisha Set! This shisha set is carefully crafted to give you the ultimate shisha experience and is ideal for both personal use and wholesale distribution.
Our handmade hookahs are made of high borosilicate glass 3.3, which is not only beautiful but also very durable. The stable bottle design ensures that you can enjoy your shisha without having to worry about it tipping over. The thick glass with a thickness of 5 mm ensures the longevity of the hookah, allowing you to enjoy countless unforgettable moments with friends and loved ones.
What sets our hookahs apart is their unique design that produces large amounts of smoke. The glass plate with 18.8mm seams is compatible with glass, silicone and clay bowls, giving you the flexibility to choose the ideal bowl for your smoking preferences. In addition, the 14mm hookah connector can be installed with plastic hoses and silicone hoses, giving you the freedom to choose the hose that suits your comfort level.
All in all, our stable high quality Chicha Sheesha Big Smoke Custom Logo Thick Glass Bottle Shisha Set is a masterpiece, offering handcrafted beauty, stability and excellent functionality. Whether you are a hookah enthusiast, lounge owner or dealer, this hookah set is perfect for both personal enjoyment and wholesale customization. With its unparalleled features and reliable performance, our hookah kit guarantees a satisfying hookah experience every time. So why wait? Get yours now and take your shisha experience to the next level!
-  Included accessories:
1 x Glass bottle
1 x glass plate
1 x glass air valve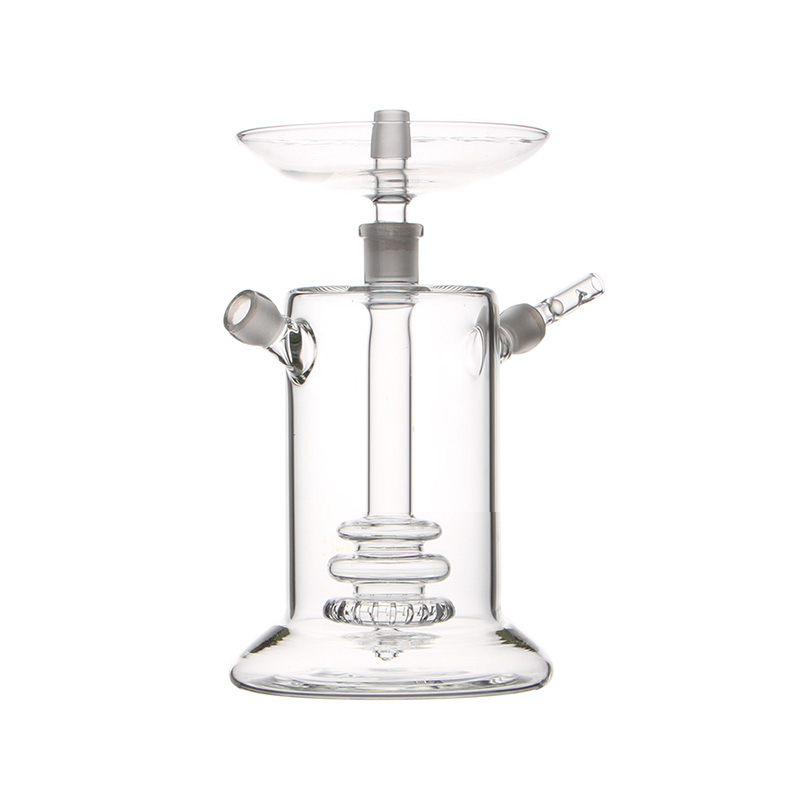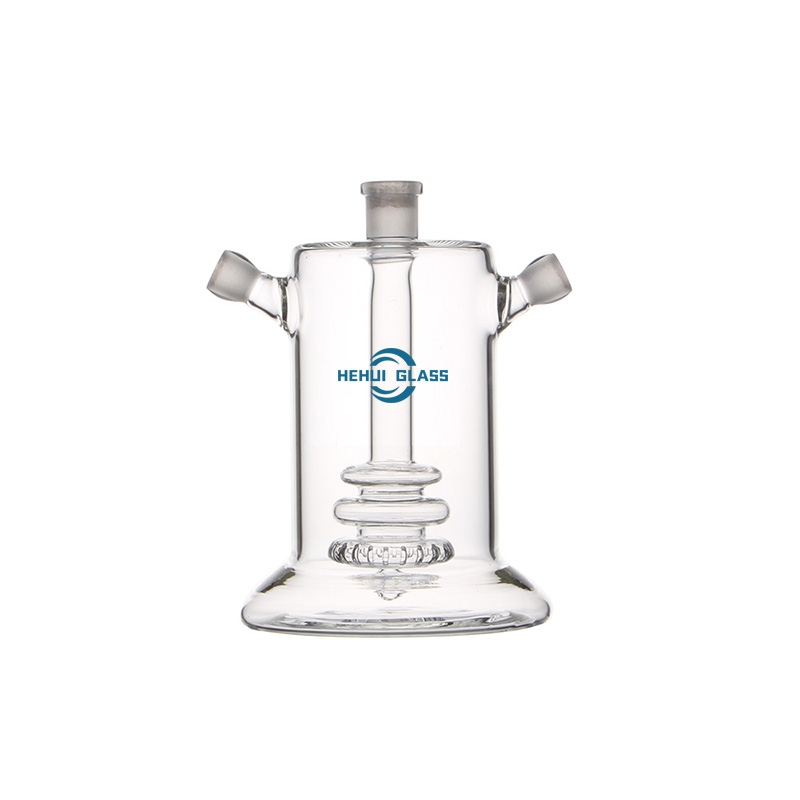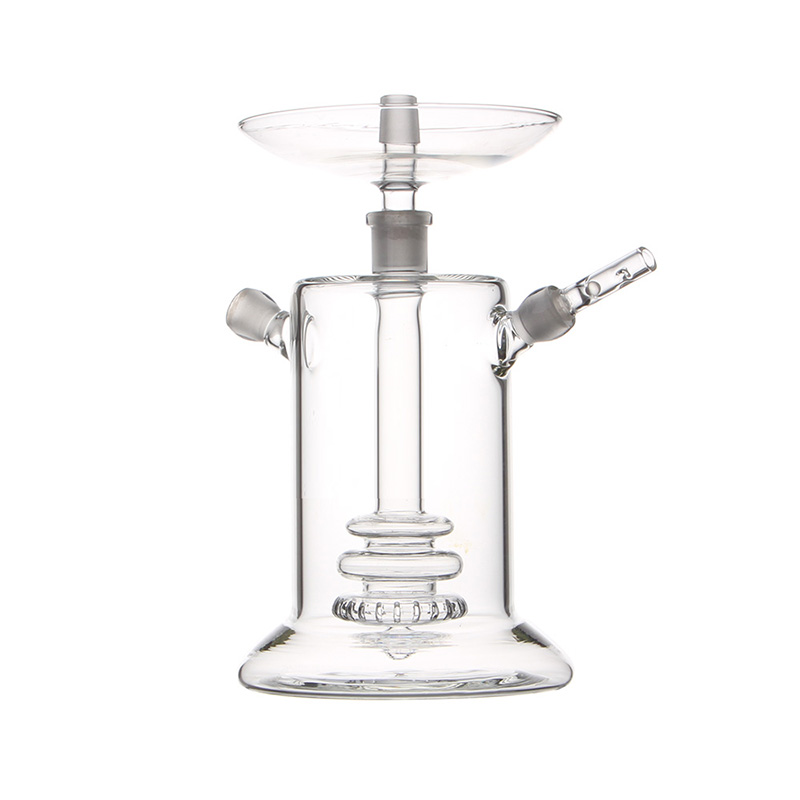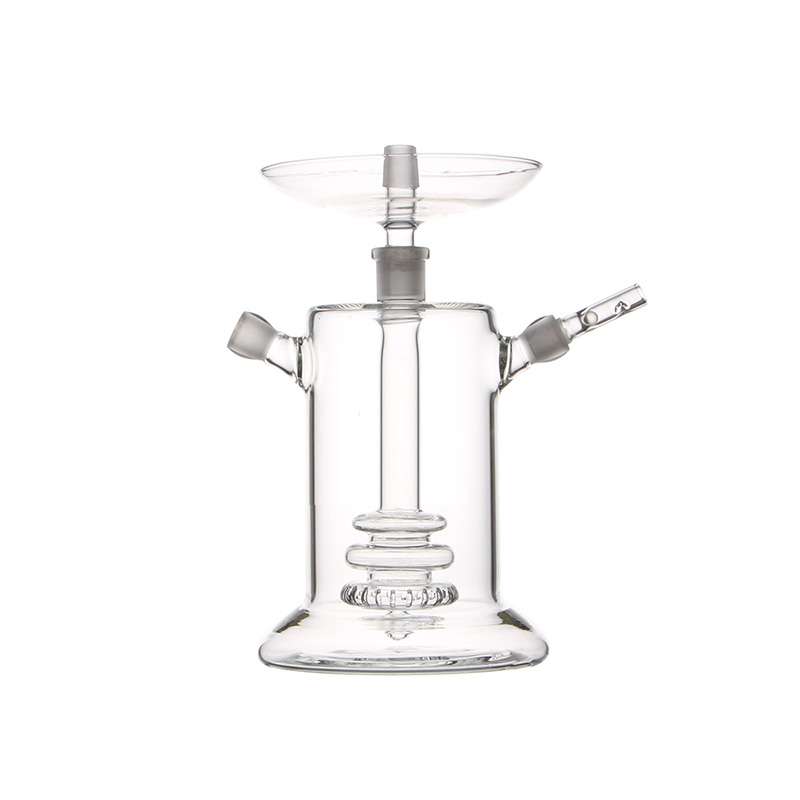 Install steps of  glass hookah
1. Pour the water inside the hookah bottle, make the water height the same as middle ball of down stem.Hookah tank with big open,easy to get creative with different fruits and ices.
2. Put tobacco/flavor(we recommend 20g capacity) inside tobacco bowl. And install the bowl on the tank.
3.Tight the bowl with sliver paper. Heat the charcoal(recommend 2 pcs square ones) and put the charcoal on the sliver paper.
4. Joint the 1.5m length silicone hose with 18.8mm adapter and glass mouth piece,connect with hookah tank as the photo showing.
5.Insert the air valve to the hookah bottle as photo showing.Put the glass plug on the big open of the tank bottle.
---
Previous:
Wholesale Hand Made Lab Glass High Borosilicate Glass Shisha Hookah Fruit Tank Design With Ash Tray Plate Air Release Valve Plug
---