Product Detail
Product Tags
| | |
| --- | --- |
| Item Name | Wholesale Hand Made Lab Glass High Borosilicate Glass Shisha Hookah Fruit Tank Design With Ash Tray Plate Air Release Valve Plug |
| Model No. | HY-HSH017A |
| Material | High Borosilicate Glass |
| Item Size | Length 300mm(11.8inches),Dia 100mm(3.94inches) |
| Package | Color Box |
| Customized | Available |
| Sample Time | 1 to 3 days |
| MOQ | 200 PCS |
| Lead Time for MOQ | In 20 days |
| Payment Term | Credit Card, Bank Wire, Paypal, Western Union, L/C |
Introducing our wholesale handmade laboratory glass borosilicate glass shisha fruit jar designs! Crafted from the finest materials, this shisha combines elegance and functionality to provide you with an unparalleled smoking experience.
This hookah is made of high borosilicate glass 3.3 material, known for its superior heat resistance and durability to withstand the most frequent use. The 5mm glass thickness adds to its sturdiness, ensuring the product is durable and exceeds your expectations.
One of the standout features of this shisha is the fruit jar design. There is a large opening on the glass tank so you can easily add ice cubes or fruit to enhance the smoking experience. Experiment with different flavors and create your own unique blends for a truly personalized experience.
Glass dishes with 18.8mm seams fit perfectly with clay shisha bowls, glass bowls and silicone flavor bowls, giving you the flexibility to choose the perfect combination to suit your preferences. The 14mm hose adapter on tank accommodates plastic hookah hoses and silicone hookah hoses to suit a variety of user preferences.
Additionally, this hookah comes with an ashtray plate and exhaust valve plug, making your smoking more convenient and worry-free. The ash tray catches any ash or debris, keeping the smoking area clean, while the exhaust valve plug makes it easy to control airflow and smoke density.
Whether you are an experienced shisha enthusiast or a beginner looking to explore the world of shisha, our wholesale handmade lab glass high borosilicate glass shisha fruit jar design is the perfect choice. Its impeccable design, coupled with superior functionality, guarantees a pleasant, satisfying smoking experience every time.
Don't settle for anything less than special. Experience the joy and luxury of smoking with our carefully designed Fruit Jar Shisha. Enhance your smoking experience and indulge in the most delicious flavors with our glass shisha hookah. Order now and embark on a truly transcendent smoking journey.
-  Included accessories:
1 x Glass tank bottle
1 x Glass plate
1 x glass plug
1 x glass air valve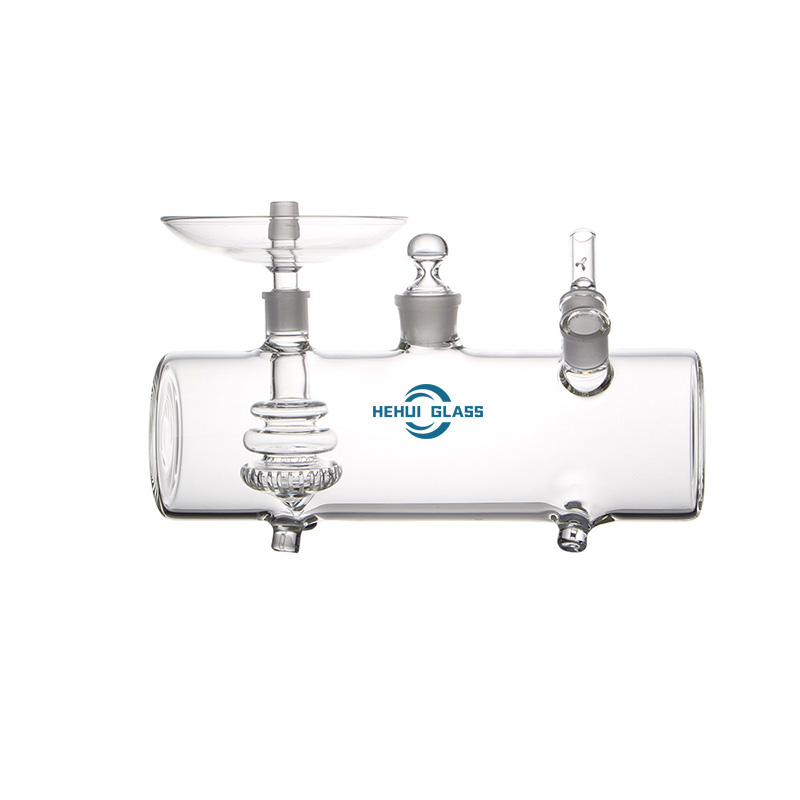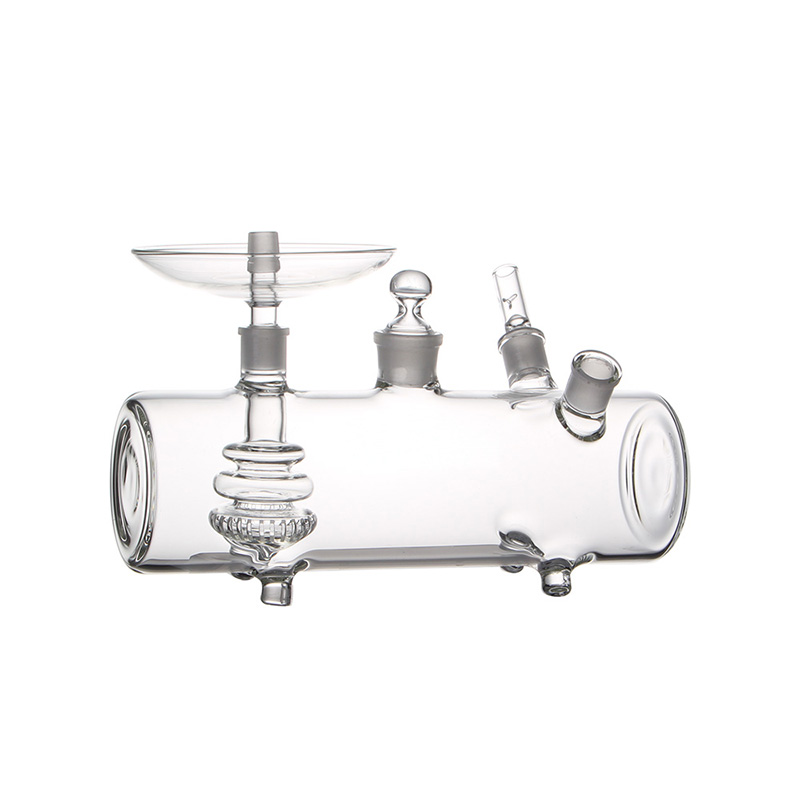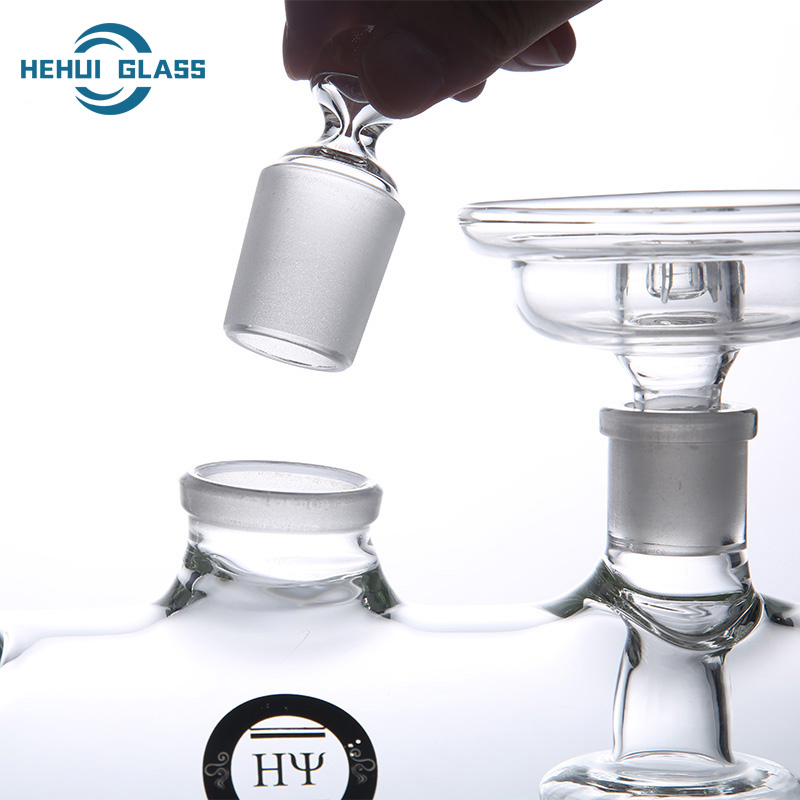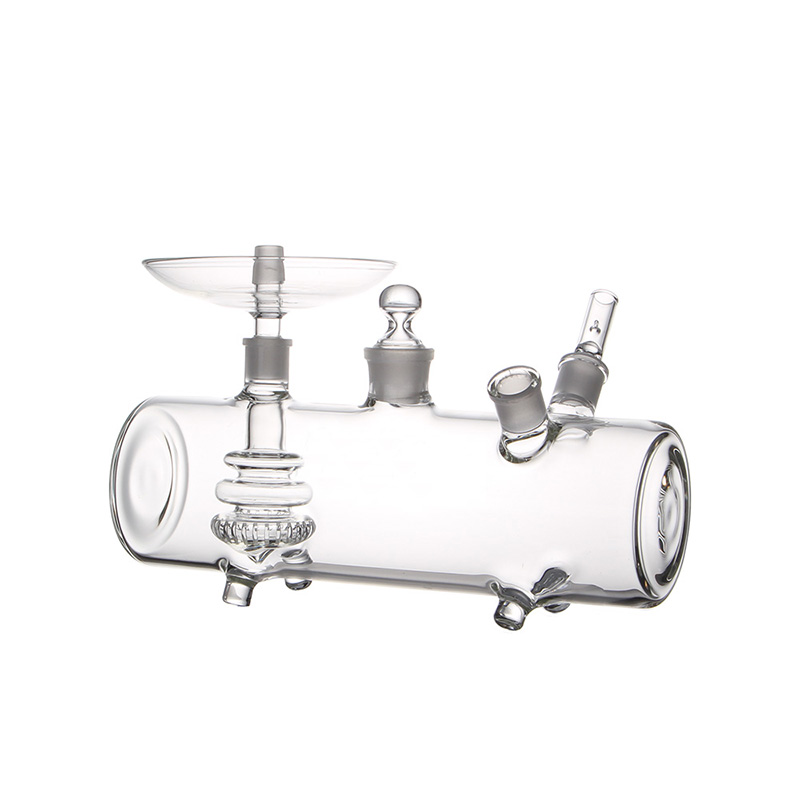 Install steps of  glass hookah
1. Pour the water inside the hookah bottle, make the water height the same as middle ball of down stem.Hookah tank with big open,easy to get creative with different fruits and ices.
2. Put tobacco/flavor(we recommend 20g capacity) inside tobacco bowl. And install the bowl on the tank.
3.Tight the bowl with sliver paper. Heat the charcoal(recommend 2 pcs square ones) and put the charcoal on the sliver paper.
4. Joint the 1.5m length silicone hose with 18.8mm adapter and glass mouth piece,connect with hookah tank as the photo showing.
5.Insert the air valve to the hookah bottle as photo showing.Put the glass plug on the big open of the tank bottle.
---
Previous:
Turkey Design 110mm(4.33inches) Height Glass Dome Bell Candle Display Container With Glass Base Sizes Can Be Customized
Next:
Stable High Quality Chicha Sheesha Big Smoke Custom logo Thick Glass Bottle Hookah Set Wholesale Custom Package With Glass Plate
---